05 September 2021
Allocation of 85,000 square meters for the complex of canned -tuna, sardines and marine products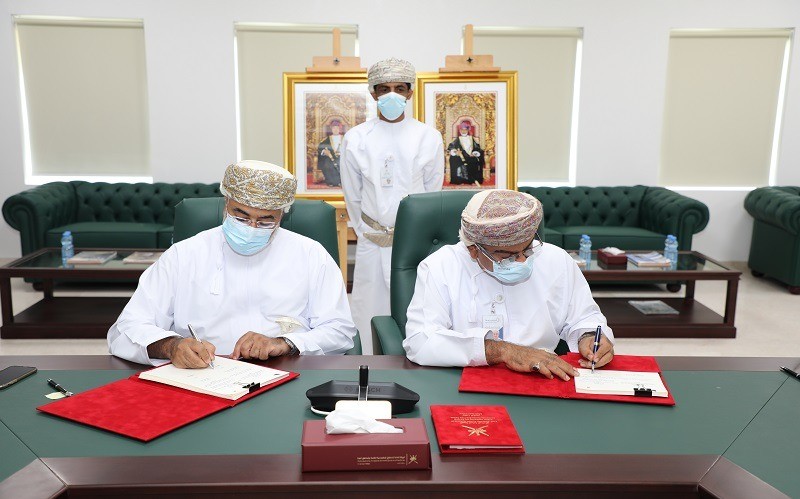 Muscat - September 5, 2021
The Public Authority for Special Economic Zones and Free Zones (OPAZ) signed today a land usufruct agreement with the International Marine Products Company, which intends to set up a complex for the canning of tuna, Sardines and other marine products over an area of 85,000 square meters.
The agreement was signed by Eng. Yahiya bin Khamis Al Zadjali, in-charge of managing operations of the Special Economic Zone at Duqm and Eng. Nabil bin Salem Al-Ruwaidi, Chairman of the Board of Directors of International Marine Products.
The complex has been allocated within fish and food industries zone, and nearby "the multipurpose" fishing port, with a production capacity of 27 thousand tons per year, subject to future expansion, with an estimated total cost of 30 million Omani Riyals.
The general manager Ali Nasser Al Rasbi said that the company will launch an operational training program, within its strategic plan, to train skilled and specialized Omani workers in all areas of the company's operations. The company will also provide the necessary infrastructure to motivate small Omani companies to engage in the manufacture and processing of fish and marine value-added products.
Ali Al Rasbi added that, this project - which is one of the outputs of the Tanfeedh Program - is in line with Oman's vision, 2040 as it will realize the Sultanate's vision of economic diversification by maximizing the return of the Sultanate fish wealth and localizing the value-added chain of fish products before exporting them to global markets. The plant will supply the planned domestic national product through local supply chains, which many Omani medium companies will benefit from, which will eventually boost investment opportunities in the sector and create specialized and support job opportunities.
It is worth noting that International Marine Products Company is one of the companies affiliated with the Fisheries Development Oman (FDO) and will be the manufacturing arm of the group, which is currently spearheading projects in the fields of commercial fishing in high seas, as well as Aquaculture and shrimp farming projects.
---