31 August 2021
Saudi delegation visits the Special Economic Zone at Duqm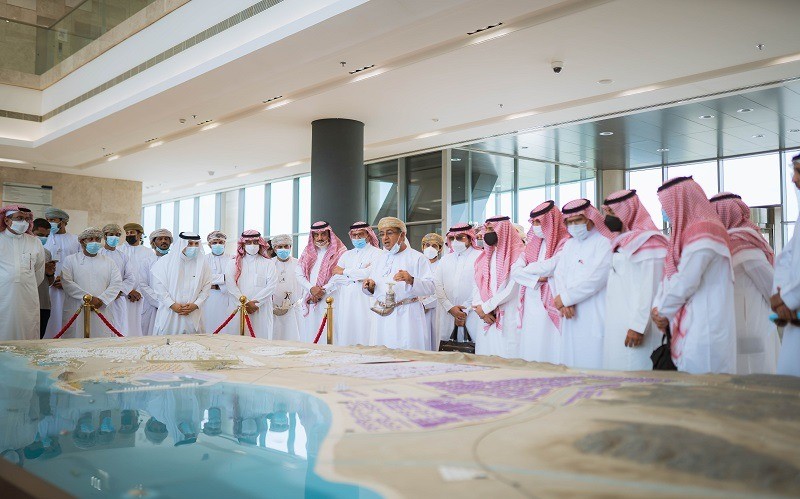 To consolidate and expand economic and investment relations,
Saudi delegation visits the Special Economic Zone at Duqm and explores investment opportunities.
Duqm - August 31, 2021
Within the program of the visit of Saudi Arabia's Investment Minister, His Excellency Eng. Khalid bin Abdulaziz Al-Falih, and his accompanying delegation, to the Sultanate, the delegation concludes today (31 August 2021) its three-day visit to the Special Economic Zone at Duqm.
Upon their arrival at Duqm Airport, the Saudi delegation was received by Eng. Ahmed bin Hassan Al-Theeb, Vice Chairman of the Public Authority for Special Economic Zones and Free Zones, and a number of officials from the management of the Special Economic Zone at Duqm and the companies operating in the zone.
During the visit, which aims to consolidate and expand economic relations and mutual investment and accelerate bilateral trade between the two brotherly countries, the two sides discussed prospects of economic cooperation and reviewed investment opportunities available in several vital sectors of the Sultanate through free and economic zones.
The visit program included a number of presentations on the capabilities of the zone and its vital existing and ongoing projects and basic facilities. The delegation was also toured around a number of projects in the Zone including Ras Markaz crude oil storage project, the multi-purpose fishing port, Port of Duqm and the Dry Dock.
Eng. Yahiya bin Khamis Al Zadjali, in-charge of managing operations of the Special Economic Zone at Duqm, said that the visit of the Saudi delegation to the zone has great importance in consolidating economic relations between the two brotherly countries, exploring investment opportunities, and reviewing projects of the Special Economic Zone, which contribute in attracting investment to these projects and to potential areas that boost businesses such as transport and import of goods through Duqm Port. He noted that Duqm Port has a strategic location, that allow investors benefit from quick and easy access to global market. Al Zadjali added that this visit will open horizons for Saudi investors to benefit from various investment opportunities available in different sectors such as oil, petrochemicals, logistics, fisheries, tourism, mining and other sectors. Also it will strengthen partnership and integration principle to achieve common national objectives of the two countries future vision.
It is worth noting that this three-day visit by the delegation of the brotherly Kingdom of Saudi Arabia to the Sultanate included several joint meetings. The Omani-Saudi Business Council was held on the first day and the Omani-Saudi Investment Forum was held on the second day, which comprised an overview of several projects in industrial zones and free zones, which was organized by the Ministry of Commerce, Industry and Investment Promotion in cooperation with Oman Investment Authority, the Oman Chamber of Commerce and Industry and the Public Authority for Special Economic Zones and Free Zones.
---