19 June 2022
OPAZ signs a second land reservation agreement with HYPORT Duqm, to set up a 500 MW Green Hydrogen and Ammonia Production plant in Duqm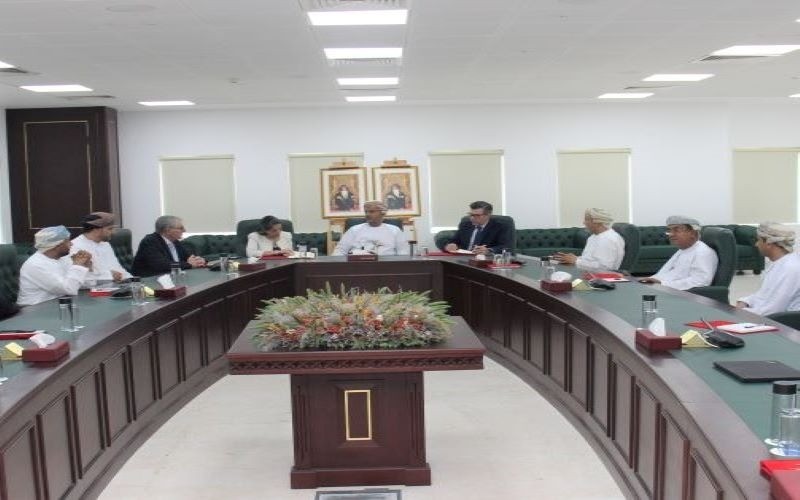 Muscat - June 19, 2022
The Public Authority for Special Economic Zones and Free Zones (OPAZ) signed on 15 June 2022 a second land reservation agreement for a green hydrogen and ammonia production plant with the HYPORT Coordination Company, which is a joint venture in the renewable energy sector between OQ Alternative Energy and the DEME Concessions, from Belgium. The signing of this agreement came after reserving the renewable power generation land in September 2021 thus allowing the project to continue with additional data collection and engineering works.
The agreement was signed by Dr. Ali bin Masoud Al Sunaidi, OPAZ Chairman, and signed on behalf of HYPORT Coordination Company by Najla bint Zuhair Al Jamali, CEO of OQ Alternative Energy and Chairman of the Board of Directors of the HYPORT Coordination Company, and by Martin D'Uva, Managing Director of DEME Concessions and Deputy Chairman of the HYPORT Coordination Company.
As per the land reservation agreement, HYPORT Duqm is a strategic project that will develop a green hydrogen and green ammonia production facility with 500MW electrolysis on a site of 793,000 square meters, located close to the Port of Duqm. The hydrogen plant will be fed with renewable electricity produced by approximately 1.3 GW (1,300 MW) of combined installed capacity of wind turbines and solar panels established in the Special Economic Zone at Duqm's renewable energy area, where HYPORT Duqm has been allocated an area of 150 square kilometers.
The HYPORT Duqm project will see the establishment of its three main components: a solar and wind renewable park with a combined total installed capacity of about 1.3 GW, a dedicated high-voltage green electricity transmission line, and a utility-scale electrolysis and ammonia conversion plant, where hydrogen will be produced from desalinated water and subsequently will be converted into green ammonia, which will be stored and shipped at the Port of Duqm for its target export markets.
In October 2021, HYPORT Duqm installed and commissioned, on its renewable site, 4 meteorological masts, accurately assessing local wind conditions as well as 2 solar stations measuring solar radiation levels. This one-year measurement campaign will collect certified data for bankability and engineering purposes.
Commenting on the signing of the agreement, Engineer Yahya bin Khamis Al-Zadjali, in charge of managing the operations of the Special Economic Zone at Duqm said: "this agreement is a significant step forward in enabling the project to complete its necessary studies on the land such as soil and topographic studies in support of the project's engineering phase. OPAZ looks forward to working with the project team to complete the necessary studies and start the project as it is Duqm's first project of green hydrogen and green ammonia, which in return will allow OPAZ to attract other renewable energy-based projects such as green steel and green aluminum production facilities so as to keep pace with the growing global demand for renewable energy."
On the HYPORT Duqm side, Najla bint Zuhair Al Jamali, CEO of OQ Alternative Energy stated: "The midstream land reservation will enable us to perform the necessary studies and design works in order to take the project from feasibility to detailed engineering. We would like to thank OPAZ for their continued support in ensuring the success of HYPORT Duqm."
Martin D'Uva, Managing Director of DEME Concessions said: "With this second land reservation signed, HYPORT Duqm is ready to go into the next phase and one step closer to becoming the first utility-size green ammonia plant in the SEZAD area. Together with our partner OQ, and with the Public Authority for Special Economic Zones, we are proud to be contributing to one of the key vectors to facilitate the energy transition and to the ambitions of Oman to become a world player in green molecules. The green ammonia, produced by our flagship project HYPORT Duqm, will be shipped via the strategically located Port of Duqm to customers in Europe and other markets where green molecules will play a crucial role to support the key objectives "energy security" and "mitigation of CO2 emissions" from hard-to-abate sectors."
---